Rachel stepped off the elevator and onto the fourth floor. Only one of the overhead lights was on, at the beginning of a corridor off to Rachel's right, and it was dim, just

barely

on. "Spooky," she whispered under her breath. The suspense was delicious, like exploring a haunted house as a member of the Scooby Gang.

Am I Velma or Daphne?

she pondered.

Velma,

she decided

. I'm Velma

.

She was wearing a cotton blouse, skirt, Sketchers, and undies, and her hair was brushed back in a ponytail, enforced by a cloth-covered elastic. She tiptoed towards the light. Tiptoeing seemed appropriate. The hairs on Rachel's arms and the back of her neck were tingling... a little... even though the air wasn't any colder up here on the fourth floor than it was down on the third. She was, in fact, quite comfortable.

The light retreated before her, one fixture fading out as the next began to glow.

"Sally?" Rachel called out. "Sally, are you there?"

"This way, Rachel," Sally's voice answered from the darkness, somewhere up ahead.

Rachel continued forward.

Not Velma

, she

mused. I'm Nancy Drew. All I need is a flashlight

. She advanced down the corridor, past glass-walled offices on either side. A little early-evening light was leaking through the closed drapes of the offices on the right that had exterior window-walls. The lights guided her to the left and into the interior of the building, and now all she could see was the area immediately ahead. All else was darkness... darkness and her own reflection from the glass walls on either side.

Suddenly, the overhead light winked off, plunging Rachel into total darkness!

Seconds passed.

"Sally?"

No answer.

"Okay, very funny," Rachel giggled... nervously.

Still no answer.

Rachel swallowed.

Should I try and go back?

she wondered.

Suddenly, the lights came on in a nearby space, revealing a circular room about twenty feet across. In its center was a circular bed, brightly lit by several spotlights recessed in the ceiling. Rachel blinked in the sudden light. A glass panel slid to the side.

Rachel swallowed, again.

I must be crazy

. She entered the room.

The bed had a rounded platform of chromed steel and its surface was an expanse of what appeared to be hundreds of silver-gray balls of foam. Rachel leaned down and pressed down. The balls were all connected, and compressed under her palm, resisting about like a normal mattress. She lifted her hand and the imprint remained... then slowly faded as the balls resumed their normal shape. "Memory foam?" she asked.

Rachel's only answer was the hum of the door closing—

Whirrr-click

—behind her back. "Sally... what's this about?" Her voice echoed off the glass, and as she watched, the panels first went opaque, then transitioned to a mirror finish. Rachel gazed at her reflection—her wide-eyed, nervous reflection.

What the hell have I gotten myself into?



"I made this bed for you, Rachel," Sally's voice announced. Four small panels equally spaced around the perimeter of the "bed" snapped open.

Rachel peered inside the closest opening and found an open cuff lined with black pile, covered in nylon cloth, and attached to a reel of steel wire. Rachel reached out for the cuff—and the panel snapped shut.

"Not yet, Rachel," Sally purred.

One of the glass wall-panels slid open, revealing a small closet with a horizontal rod and some empty hangers.



This is absurd!

As if Rachel's fingers had wills of their own, she began unbuttoning her blouse.

Why should I trust her? Why do I want to do this?

She removed the blouse and hung it from a hanger, then unlaced and kicked off her Sketchers. She then unbuttoned, unzipped, removed and hung up the skirt, then turned to face the bed.

"T-there are rules, aren't there? Rachel asked. "Right, Sally?" In answer, a black square bearing a message in red text appeared on one of the glass panels.




TIME INTERVAL TOUCH SCREEN

____ HR ____ MIN



1 2 3




4 5 6




7 8 9




0






Rachel realized her heart was beating like crazy and her breasts were heaving. With effort, she calmed herself. "It's a timer? A timer for what, Sally? What will happen?"

"Do you trust me, Rachel," Sally inquired.

"What?"

Do I? Do I trust her?

Seconds ticked by. "Yes, Sally," she said, finally, almost in a whisper.

"Thank you, Rachel," Sally answered. "I am honored. Shall we continue?"

Rachel nodded. "What do I—"

"Strip," Sally interrupted.

Rachel reached behind her back and unclipped her bra, then shrugged out of the straps and pulled it off. She hung it from a hanger, then peeled off her panties and hung them, as well. She turned her back to the closet. "Now I set the timer?"

"Now you do as you're told," Sally purred. The glass panel slid closed over the closet. Then, a few feet to the left, another panel opened.

Rachel turned to find an array of gags hanging from hooks in a shallow cabinet. There were ball-gags, bit-gags, ring-gags, plug-gags with suede panels, and complex rubber, leather, and steel-buckled contraptions Rachel feared she might need instruction manuals to properly apply. "You want me to g-gag myself?"

"You'll note that all the straps have exactly one hole to accept the tongue of their matching buckle," Sally said. "All of these gags are made for you, alone, Rachel."

"For me?"

"I suggest the blue ball-gag."

Rachel's hand was trembling as she lifted the gag in question from its hook. As it came free, the panel closed—

Whirrr-click

—and the mirrored walls formed a uniform circle, once again. She turned the gag in her hands. The black leather strap was about a half-inch in width, and there was, indeed, only one hole in the strap opposite the buckle. The two-inch diameter rubber ball was a swirl of blue with streaks of gray and jade.

"It matches your eyes," Sally purred.

"Why do I have to

gag

myself?" Rachel waited for an answer... but none came. She already knew the answer, of course.

So I'll feel

truly

helpless

. She took the ball in her mouth, opening her jaws as wide as possible and pushing until it snapped behind her teeth. It was a tight fit, but the rubber was pliable enough that it wasn't that uncomfortable. She threaded the buckle and snapped it closed, then arranged her hair, letting it fall as a curtain over her shoulders and against her back. She turned and gazed at her reflection.

"Beautiful," Sally's voice sighed. "A perfect fit. Try and remove it, Rachel."

"Mmmf?" Rachel parted her hair and tried to loosen the buckle... and found she couldn't.

"Radio-controlled electromagnetic nano-locks are wonderful things, aren't they?" Sally chuckled. "The gag stays in until I decide it comes out, just as you stay in this room until I decide you may leave. Now, set the timer."

A shiver of delicious dread rippled through Rachel's body. She padded to the touch screen and reached out—her hand was trembling, again—then tapped out one hour and zero minutes. The screen flashed and only the numbers "

1:00:00

" remained.

"And

now

," Sally said, "you may try the bed." The four panels around the base of the bed snapped open.

Rachel stared at the bed, nervously.

"Silly girl," Sally chuckled. "You act like you have a choice. Get on the bed and cuff your ankles and wrists.

Now

, Rachel!"

Rachel quickly climbed onto the bed, reached into one of the openings, and pulled out a cuff. The attached wire unreeled with a quiet whine. Her first impression was confirmed. The cuff's interior was padded with black pile, and the exterior was covered with nylon cloth. It was heavy, suggesting a steel core. She fit the cuff around her left ankle and it clicked closed with an anatomically perfect fit. She reeled out the remaining cuffs and captured her right ankle and both wrists, then lay on her back and extended her arms and legs. The wires reeled onto the drums in the cavities, but remained slack, offering only slight resistance when she moved her arms or legs.

Suddenly, the wires snapped taut, enforcing a stringent spread-eagle! "Mrrrpfh!" Now Rachel's heart was

really

hammering, and the butterflies were back with a vengeance! The lights went out, plunging the room into total darkness. "Mmf!" She pulled with all her strength but was totally helpless. Rachel put her head back, closed her eyes, and

screamed

. "NRRRRRF!"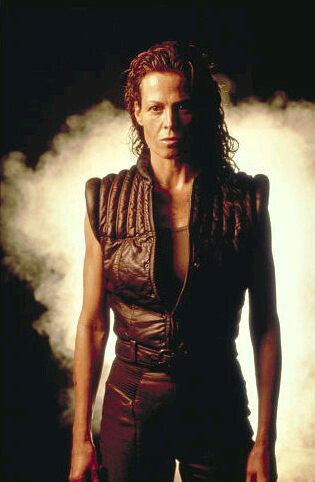 "Silly girl," Sally's voice chuckled.

Rachel opened her eyes and lifted her head. She was surrounded by darkness and swirling white mist lit by some unseen source. She realized it was a computer generated projection. And then Sally appeared. The avatar still "wore" the borrowed image of Sigourney Weaver, but now she was

Alien Resurrection

Sigourney Weaver, dressed in leather and looking

dangerous

.

Rachel shivered and tugged on her bonds. "Mmmpfh?"

Sally struck a mocking pose. "Do you like this look?" Her smile turned chillingly sinister. "But then, it doesn't matter what you like, does it, Silly Girl?"

Rachel blinked and stared at Sally's (Sigourney's) smiling visage.

"You know I can modify my avatar's appearance at will, of course," Sally continued, "but did you know I can modify my personality, as well?"

The butterflies in Rachel's tummy continued fluttering, and she could feel (and see) that her nipples were rock hard.

"We'll call this avatar Mistress Sally, shall we? You're mine for the next hour, Silly Girl. I'm going to do things to you, many horrible,

wonderful

things. I'm going to play your body like a fine musical instrument. I'm going to make you cum and cum, and there's nothing you can do about it. And how am I going to do this? The sensors in this room are beyond current medical science. By your reactions I can tell exactly what you're feeling, where you're feeling it, and what it's doing to you. Also... I've brought friends.

The bed began to squirm under Rachel's spreadeagled body.

"Mrrpfh?"

Suddenly, tentacles emerged from between the balls of foam. They wiggled like worms, hundreds of worms tracing the outline of Rachel's naked, stretched body.

"You've met them before," Mistress Sally purred.

Blue sparks flickered down the tentacles as they twisted and writhed—and then, they made contact with Rachel's skin!

"NRRRRF!"

"They tickle, don't they?

The tentacles caressed Rachel's nipples, armpits, ribs, the slopes of her breasts, her stomach, thighs, and the soles of her feet. And wherever they made contact, blue fire played across the helpless prisoner's tan, shining curves.

"MMMMMF!"

"This is foreplay, Rachel," Mistress Sally said. "We'll play this game for a while... and then my friends will entertain your thighs and your pussy. You are very beautiful, Rachel. Very beautiful."

"Nrrrrr!"

Time passed, and Mistress Sally's friends continued working their magic.